We're not a Resort -- we're "Ho-Hum." A different kind or RV Park. No, there isn't a swimming pool or Jacuzzi. Nor, are there elaborately landscaped sites. But, our grounds are surfaced with gravel made of million year old fossilized oyster shells that is easy to walk and drive on. The Gulf of Mexico is within an oyster shell's throw from any site. There is a private unobstructed 1/2 mile natural walking beach that's great for dog walking.
Fish from our 250 ft. pier, or your own boat or kayak. Or just sit back and enjoy the breathtaking sunrises, dolphins slowly swimming by, pelicans floating or flying in formation overhead — and, sea gulls and shore birds doing their dance. Birders, bring your binoculars and kayaks to enjoy all our native species. Lanark reef, locally referred to as Bird Island, was recently purchased by the Audubon Society and is less than one mile off shore in shallow water.
Ho-Hum is the perfect place to read, take a nap, or just relax. If you must resort to being high-tech, we offer free WiFi and cable TV (over 70 channels).
We are positioned between Hwy 98 and the Gulf of Mexico on the forgotten coast of the Florida panhandle. Ho Hum is only four miles east of Carrabelle in Lanark Village. We are in the eye of nature, where the Apalachicola National Forest, Tate's Hell State Forest, and The Gulf of Mexico come together.
Instead of simply enjoying nature, why not become a part of it?
Million Year Old Oyster Gravel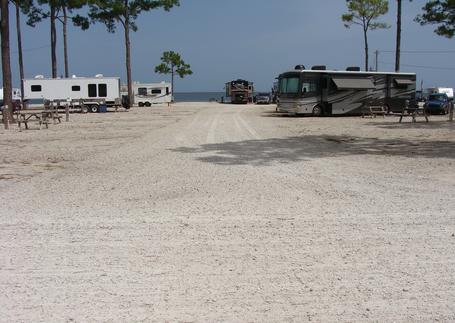 Million Year Old
Oyster Gravel
As you look over the pictures of Ho-Hum RV Park, you will notice that the streets, RV pads, and site patio areas look like a fine gravel. That is somewhat correct. There is a rich history behind why Ho-Hum RV Park looks as it does and that is because of "Oysters." Yes Oysters. When you research this area of the Florida Panhandle, meaning Apalachicola, Eastpoint, and Carrabelle, seafood comes to mind. Especially Oysters. Those succulent little shelled sensations that nature has given us to feast on. So what does that have to do with the way Ho-Hum looks? Well, not much, just thought we would get you hungry for Oysters.

So, now to why Ho-Hum looks the way it does. Many years ago, North of Ho-Hum on Highway 67 in the middle of the Apalachicola National Forest, there was an ancient Oyster bed discovered. It was huge. So they broke up the fossilized Oyster bed to make different size, "Oyster Rock." We use the bigger Oyster rock for the streets and RV pads, and the "Screenings or Pea-oyster gravel" for the patios. If you look closely, you can find a fossilizes Shark tooth or Sea Shell laying about the streets and pads.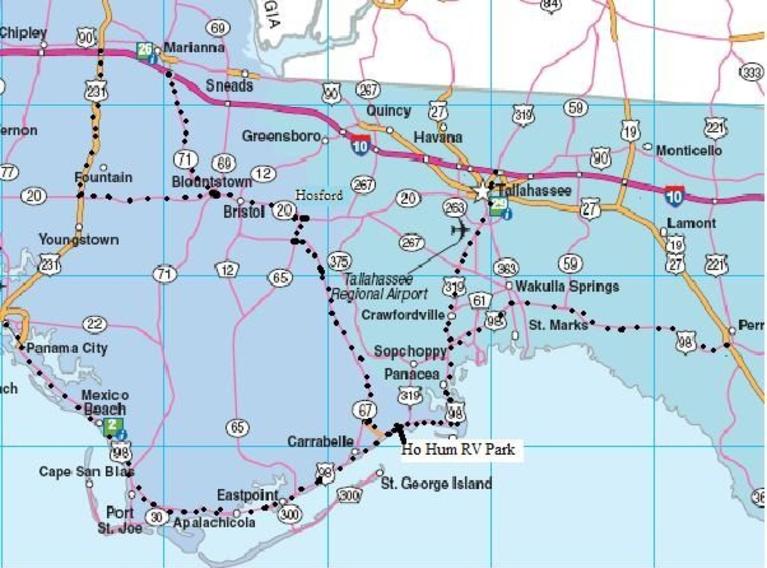 Ho-Hum is located on the coast of the Florida panhandle, one (1) hour south of Tallahassee.

Ho-Hum RV Park
2132 Scenic Hwy 98 E
Carrabelle, FL 32322


Follow the dotted lines to Ho Hum GPS coordinates:

Latitude: N29.52.261
Longitude: W84.36.602